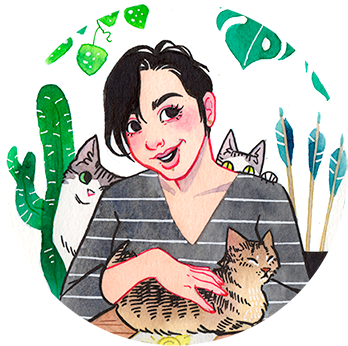 Me chamo Manu Cunhas e sou formada em Design Gráfico pela UDESC, onde lecionei por um certo tempo. Trabalho hoje dando aulas de desenho para pequenas turmas e atuo como designer e ilustradora freelancer, com foco em projetos editoriais. Sou autora de quatro livros publicados por financiamento coletivo e ilustradora de outros tantos. O primeiro Catarse foi o do livro "Como diria meu gato", que trouxe junto o "Guia de cuidados felinos", e o segundo o "Outras meninas", que recebeu o prêmio jabuti de ilustração em 2017. Eu também ilustrei o artbook Ao acaso: mulheres livres, mamilos polêmicos" e meu último livro autoral publicado foi o  "Corpo de yoga", realizado com a Van Joda.  Trabalho com pintura digital e tradicional, com técnicas de aguada nanquim, guache e aquarela. Adoro o universo editorial e cultura Nerd, então é possível que você me em encontre em feiras e eventos do tema, expondo ou passeando. 

Para projetos e parcerias, entre em contato com a agência que me representa, a "Illustration X", ou mande uma mensagem no formulário abaixo! 
•
My name is Manu Cunhas and I am a freelance designer and illustrator focused on editorial projects. I hold a Bachelor's degree in Graphic Design from UDESC, where I have lectured in the past. I currently teach drawing to small classes and am the author of four books published by crowdfunding, in addition to having illustrated many other books. My first project was the book "Como diria meu gato", which brought along the booklet "Guia de cuidados felinos". My second book "Outras meninas" received the Jabuti Award for illustration in 2017, and my last book "Ao acaso" just arrived! I work with digital and traditional painting, experimenting with techniques of ink, gouache and watercolor.
For projects and partnerships, contact my Agency Illustration X or sent a message at the formulary below!